bio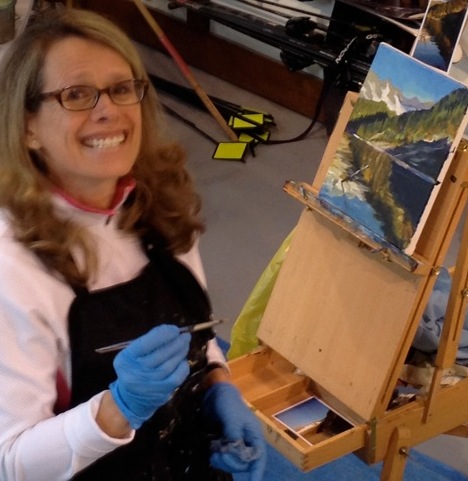 Based in Whistler and Vancouver, Lianne Gulka has lived on the west coast for over 20 years and hails from Ontario (Thunder Bay, Toronto, and Muskoka). Captivated by BC's stunning scenery, Lianne takes advantage of many outdoor activities for opportunities to uncover and capture the drama of BC's landscapes, her favourite subject matter. WIth a passion for colour, Lianne strives to capture bold scenery with energetic brush strokes.

She started painting accidentally when sidelined by a ski injury over ten years ago, she was forced to "explore her creative side". Inspired by her late mother, artist Lillian Gulka, Lianne has taken over 40 workshops and studied with many Federation of Canadian Artists (FCA), and Emily Carr instructors. For 12 years Lianne has also participated in the annual BC Painters at Painters Art week, observing many top artists. With a prior corporate background in finance, and then piano teaching, Lianne currently dedicates her time to painting and volunteering for a variety of organizations.

A favourite past-time is photography and travel with a constant quest to capture the changing light and reflections. With a focus on acrylics as a medium, Lianne is an "active" member of the FCA, the North Shore Artists Guild, and the Whistler Out-of-Bounds Artist Group.

Favoured by Canadian and international collectors alike, Lianne's work can be found in both private and corporate collections in Vancouver and Whistler BC; Calgary AB; Mt Tremblant Que.; Toronto, Ottawa, Muskoka , and Thunder Bay, Ont..

In honour of her late mother, Lianne is directing all art proceeds towards the Arthritis Research Centre of Canada where she is Co-Chair of the Consumer Advisory Board, and towards Women's Cardiac Research at St Paul's Hospital as a tribute to Lillian.